Unit: 2 X1 "circular ribbon treble per channel,
1 X5" TITANIUM CONE midrange,
2x6.5 "aluminum cone bass, 4 X8" ribbon aluminum cone bass
Impedance: 4 ohm
Sensitivity: 90dB
Division: 4 channels
Frequency response: 20Hz to 40KHz, + / - 3dB
Output power: 500W servo drive is built in each channel
Height: 128.3cm
Width: 34.3cm
Depth: 55.7cm
Weight: 75kg / piece
The new Version of the Maestro, updated nearly 20 years later, is the Genesis Maestro, which delivers the ultimate musical experience with great dynamic margin, large dynamic contrast and minimal detail.
Genesis Maestro is a 4-way partials design, two Genesis ring banded soprano respectively installed on the speaker, a 4.5 -inch titanium plate before and after the sound, two 6.5 inch aluminum plate bass + coupler, and 500 w servo control bass amplifier driven by four eight inches bass, bass power amplifier part adopts the new improved power supply system, provide more powerful bass effect for low frequency drive.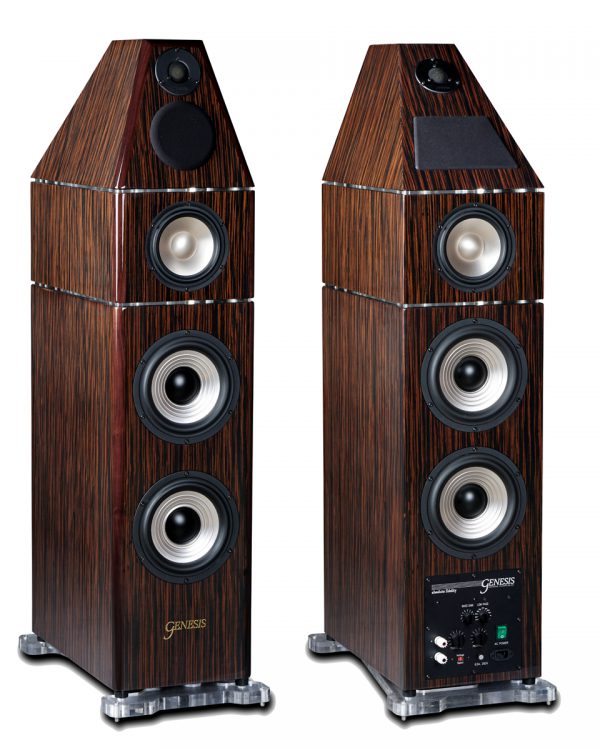 Installed on the front and back panel of the Genesis ring ribbon tweeters, have relatively low distortion and the wider diffusion ability, can support the super wide frequency, two high respectively before and after installed on the elevation on the front panel design, can further reduce because of the room environment problem caused by the asymmetry of acoustic distortion problem, to have the best listen to position more flexible, let the different locations inside the room to hear voice is excellent.
The Maestro dipole unit is also designed to reduce harmful side-wall reflections, making the sound field and sound structure "rock solid".
Maestro USES the Genesis acoustic suspension system, a special suspension framework that allows speakers to perform acoustically on any floor, whether uneven natural stone tiles, smooth granite, thick carpets or wood floors, for optimal imaging and bass control. With neoprene decoupling device, its function is similar to shock absorber, which can ensure that the box is not affected by vibration.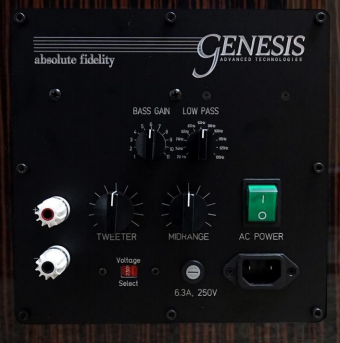 The Genesis Maestro box is designed as an inside box. Three independent Chambers are respectively installed with treble/mid-bass, mid-bass and bass units, and each set of independent dividers. The Maestro incorporates a new damped composite sandwich design that reduces the resonance of the enclosure due to its powerful low frequencies and allows for quieter background music.