Input: 3 groups (XLR or RCA)
Output: 1 set (XLR and RCA)
Frequency response: dc-300khz + 0, - 3dB
RIAA moving magnet / dynamic coil: + / - 0.1 dB
EMI moving magnet / coil: + / - 0.2 dB
Decca moving magnet / coil: + / - 0.2 dB
Colombia moving magnet / coil: + / - 0.2 dB
Teltec moving magnet / coil: + / - 0.2 dB
The SNR is better than - 90dB (moving magnetic phonograph) and - 81db (moving coil phonograph)
Output level: 12V eff
Intermodulation distortion: less than 0.006%
Host size: height: 11cm width: 50cm; depth: 36cm
Power size: height: 11cm width: 50cm; depth: 36cm
Net weight: Main Engine: 12kg
Net weight: Power: 15kg
Total weight: main engine and power supply: 48kg
Given that the number of vinyl lovers is increasing every day, in the spirit of perfection, we want to make something better than ever before.
That's the new head amplifier KA PH Reference.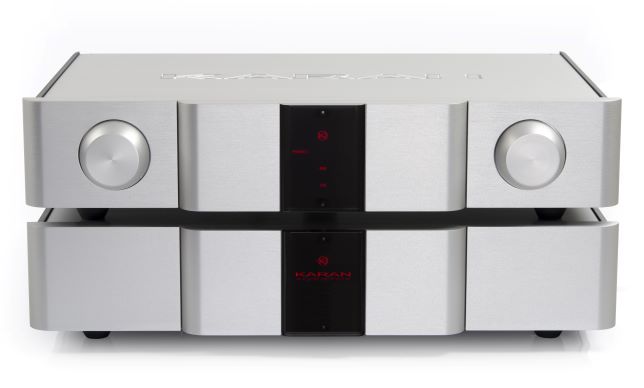 Karan Acoustics have been unwilling in mediocre amplifier technology, we developed a new kind of balance design completely, completely regardless of the cost, in order to use the best parts, injection of all of our knowledge and experience, will be very strong and stable power supply from the host in independence, three groups including independent input (XLR and RCA), used for three wheel or 3 his arm. Each input has its own input load, input capacity and gain Settings. Therefore, you can set each head to optimal performance. Output signal phase switches, the possibility of reproducing the correct sound, plus the use of different equalization curves (RIAA, EMl, DECCA, Columbia, and Teldec) for vinyl records that can be made at different times, see the user's manual for more details. Tuning possibilities and connection options are varied, and get the best sound quality.
Our ultimate goal is to bring the music, emotion and soul recorded in the studio to your listening room. Your favorite piece of vinyl will sound as smooth and natural as ever. Listen and feel for yourself how the emotion, soul and power of the music on the new KA PH Reference will appeal to you on a new musical level.